________________________________________________
Sorry but we have no control over the ads above
The Vintage Racer Group at The Glen-Oct 2010.
~~~~~~~~~~~~~~~~~~~~~~~~~~~~~~~~~~~~~~
.
Weather was mixed but racing was great. Friday and Saturday morning were dry and Sunday was good all day. As usual, the scenery and Fall colours in the Fingers lakes were glorious.
~~~~~~~~~~~~~~~~~~~~~~~~~~~~~~~~~~~~~~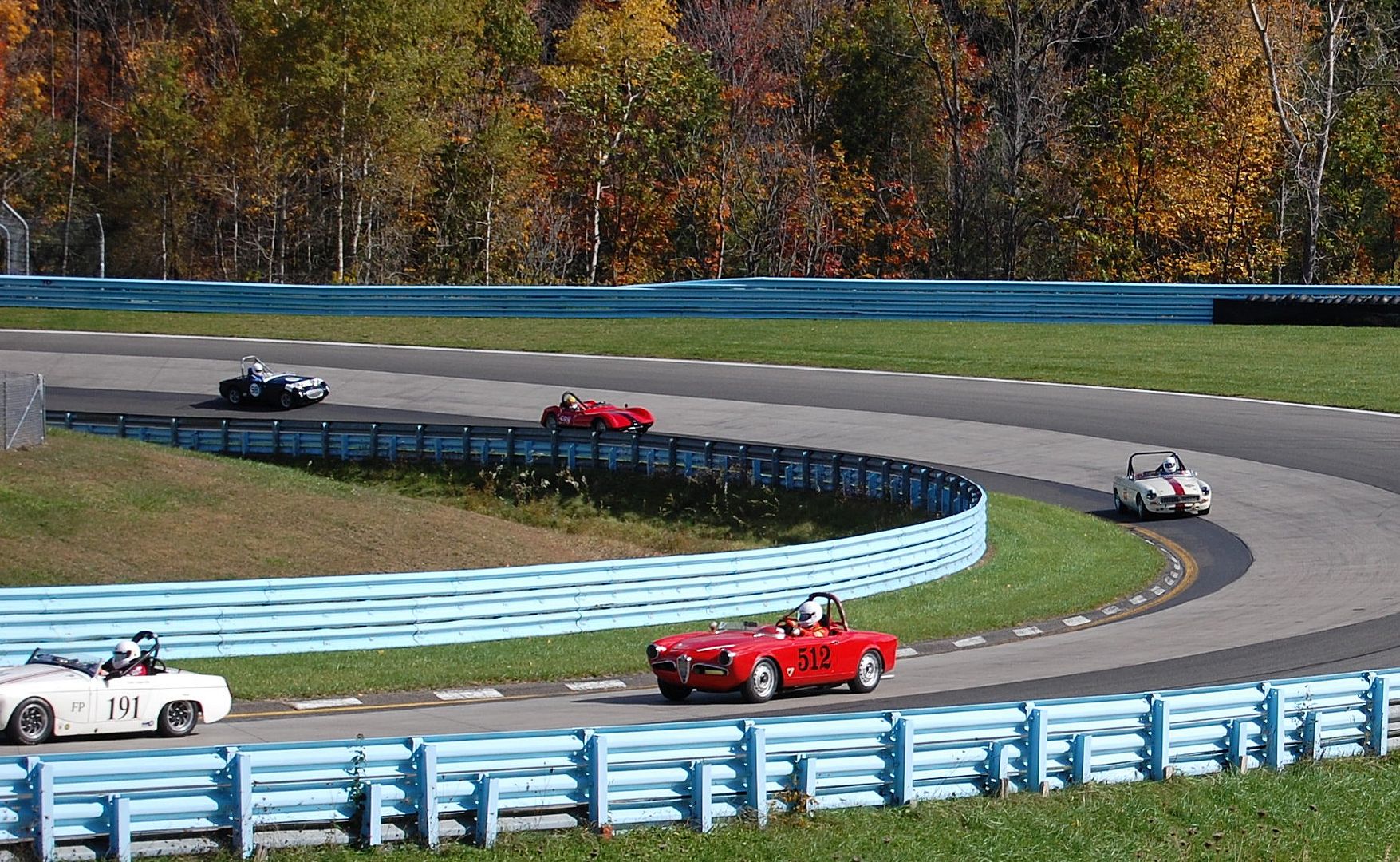 There are a lot of pictures on the links below (and they are in no particular order). In some cases, your computer may "time out" and the last number of pictures will only appear as "red Xs". If that happens press the "F5" key on your keyboard (or use the "Refresh" button at the top of the screen). Depending on your connection speed, you may have to do this several times before all the pictures "load" onto this page. I think Linda and I got at least one shot of every car. As always, you are free to take any of these photos for personal, non-profit use.
Note: I am sending this link out via the VRG Yahoo mailing list. If you know anyone who is not on that list, but would like to see this, please forward this link to them.
To see PAGE ONE of photos, ~CLICK HERE~
~~~~~~~~~~~~~~~~~~~~~~~~~~~~~~~~~~~~~~
To see PAGE TWO of photos, ~CLICK HERE~
~~~~~~~~~~~~~~~~~~~~~~~~~~~~~~~~~~~~~~
To View in-car Video of the One Hour Enduro, ~CLICK HERE~
Since some of the racers had missed some time due to the afternoon rains, the VRG board decided to let everyone enter the enduro for free. This was a great idea and was really well received by the racers. It provided some nice, extra seat time for anyone interested. This is one of the nice things about VRG; it's a non-profit (501-c) organization that only takes in as much money as it needs. In total over 52 people entered the enduro. Despite the speed differentials and the mix of cars, everyone "played nice": a testimony to the good sense and attitude of VRG drivers.
~~~~~~~~~~~~~~~~~~~~~~~~~~~~~~~~~~~~~~
To View in-car video of Saturday races ~CLICK HERE~
With classical music by Bach.
~~~~~~~~~~~~~~~~~~~~~~~~~~~~~~~~~~~~~~
To View my last race on Sunday, ~CLICK HERE~
Classical music is by Hayden. This has some shots of the town of Watkins Glen at the beginning.
~~~~~~~~~~~~~~~~~~~~~~~~~~~~~~~~~~~~~~
The three videos (LINKS ABOVE) were taken from Spridget #909 using a "Flip Video" solid state camcorder. As you will see, I didn't do much passing in these videos, thanks to my latest engine swap. In fact the only time I really saw my fellow competitors was at each start. And then only for a short time. Nevertheless, I'd like to thank Harry Weslake and all the lads at BMC for designing the very fine A-Series engine. My "new" 948 survived the day, despite languishing for 20+ years, followed by my appalling "race prep".
The normal 1500 engine in this car exploded at the VRG New Jersey races two weeks prior to this event. Disassembly revealed that the 1500 was only suitable for a boat anchor. The two 1275 engines I have are in the middle of being rebuilt. My only option was a hopeless-looking 948 cc engine that I'd gotten for free. It had been sitting on a dirt floor in a shed for 20+ years. The engine wasn't a Sprite engine either; it's the extra-low performance single-carb 35 horsepower engine (7.5 to 1 compression) from a 1958 Austin A35 sedan. When I dragged it out of the shed and pulled the oil pan, I found it was full of spiders. I also pulled the head and wire-brushed about a pound of crud from the valves. Rod bearings looked OK and the cam (with lobes that were barely pimples) seemed smooth. Pistons didn't rock around too much in the bores. So I wiped out the oil pan with a dirty rag and slapped it back together (using the old gaskets and about $5 worth of sealer). I blew out some old, spare carbs with spray cleaner and eye-balled the ignition timing.
Naturally, it started right up.
Since my car is a 1500 chassis, the 948 motor and trans mounts were a bit dicey to fit. Even with my generous selection of pry-bars and large hammers. And getting the clutch slave cylinder to work probably bordered on miraculous. I gave up trying to get the alternator to work and figured out the belt size needed to *just* squeeze over the water pump pully and lower pully (27" X 1/2"). Since the car was now running a "total loss" electrical system, my lawn tractor donated it's new battery.
My "testing" consisted of driving it up and down our 50 foot driveway twice on Friday. Then it went on the trailer and we were off to Watkins Glen. I come from a family of optimists. My father came to North America on a cargo ship. He had no idea what to do when he got here and had about $8 in his pocket.
The car was comically slow. I told Chris that the *starter motor* in his Corvette was probably more powerful than my 948. But anyway, it ran and ran and ran. In my rush to get it together, I was unable to fit any form of temperature sender, but it never steamed a bit. After each session I stuck my finger in the radiator: the coolant wasn't even warm enough to make a good cup of tea. I suspect a worn-out 948 doesn't have much Brake Means Effective Pressure......hence, not much heat needs to be rejected. I couldn't get it over 5000 rpm, but that's probably just as well.
And then there was the oil pressure issue......I found a variety of oil containers in my garage.Some were half-quarts left over from my lawn mower or some previous car I had sold. I had some 5W-20, 10W-30, 20W-50 and so forth. It all went in the 948. Waste not want not. I would estimate that the oil I was running was 11W-39. Or something like that. At first, the oil pressure was not bad. I watched the oil pressure gauge like a hawk. Mostly because none of the other gauges worked anyway. Also, driving a 35 horsepower car is really, really boring and there's not much else to do anyway. As I watched, oil pressure dropped each session. First, I had about 35 psi at 5000 rpm. But then it dropped to about 30 psi in the second session. The next session it could only muster about 25 psi at 5000 rpm. Etc. On my last session, it could only make about 12 psi of oil pressure at 5000 rpm. Maybe the bearing clearances were artifically closed up with spider feces, and it was slowly getting filtered out. Who knows? After John's MGA grenaded, I figured the track workers might be low on Kitty Litter.....so I skipped the All-Comers sessions on Sunday afternoon. Discretion is the better part of valour. On a positive note, it never leaked any oil or coolant. Really.
The 948 (below).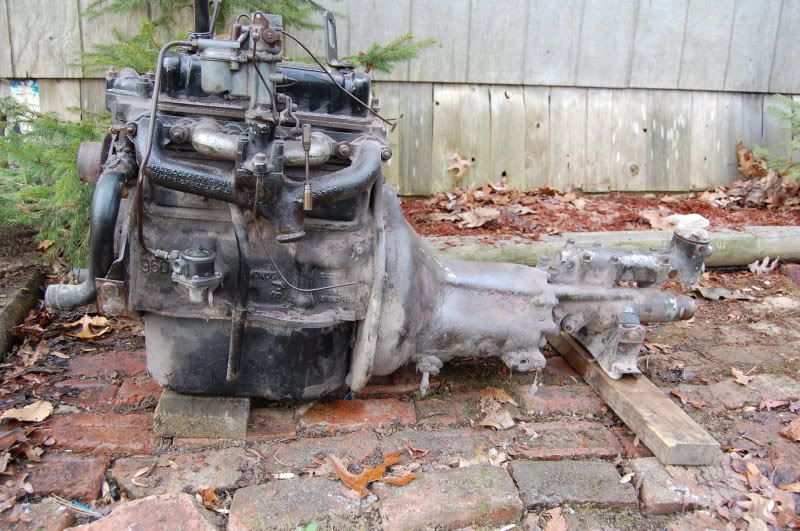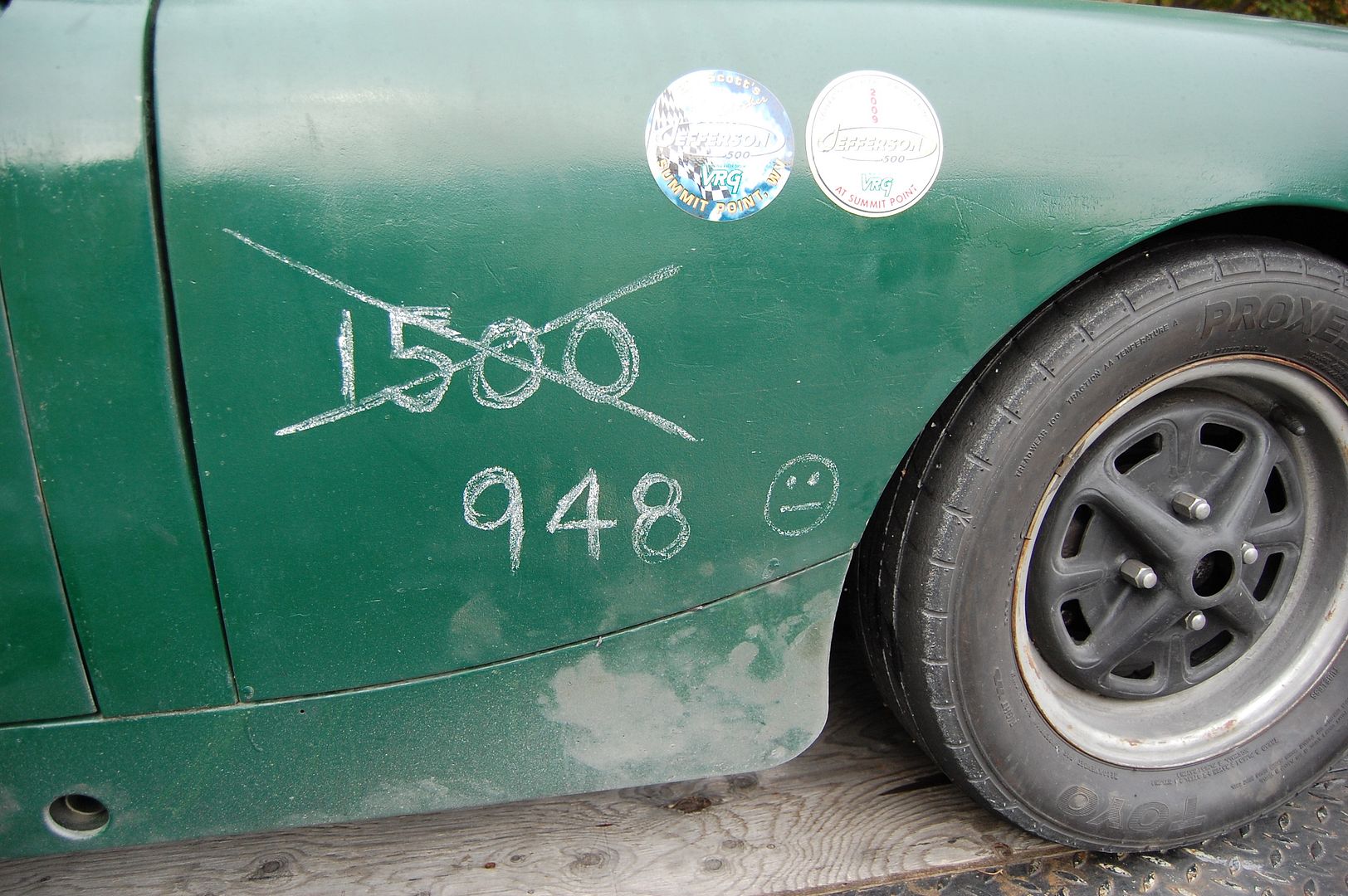 ~My First Trip To Watkins Glen~

I'm really glad we have the chance to go to Watkins Glen. Whenever I go, it makes me feel like a kid again. My first trip to any race track was an F1 event at Watkins Glen in 1968. I was a 17 year-old college freshman (Trenton State). I brought two of my high school buddies with me. We drove up in a 1958 VW beetle with 36 horsepower (Curiously, that's the same age and about the same horsepower as the engine I just used at the VRG event). I had just bought the VW two weeks before (it replaced a pathetic MGA). It didn't occur to us to bring a tent....we all just slept in the car. The racing and the crowds were fantastic. But I was really struck by the uniformed mechanics with their perfect tools and plentiful spare engines. I'd never seen any engine in a crate before but there were lots of crated DFVs sitting around in the garages. We did The Bog and even spotted Zora Arkus-Duntov driving around in a Mako Shark. Mario Andretti was on the pole but Stewart won (with Graham Hill and Surtees 2nd and 3rd). We rooted for Piers Courage, because he had such a great name. But we liked Stewart too, because of his cool, painted helmet. I went to the next five F1 races there, plus lots of other Glen events. The handbrake got stuck on the VW so we drove home very slowly (10 hours to central NJ). A month later I rolled it and totalled it in the Trenton State parking lot while testing it's cornering limits.

_____________________________________________________________

~N. McCabe~Regular Homepage (misc. stuff)

_____________________________________________________________

~Pictures from my early days in motorsports (late '60s / early '70s).

_____________________________________________________________